About Us
Elsworth "Elzy" Harrison
Elsworth "Elzy" Harrison began his career at the tender age of 7 when he entered his first rodeo and roped his calf. Elzy grew up under his fathers' tutelage whoElzy Harrison roped and trained roping horses. His father "Elsworth Sr." always kept roping calves and horses available for Elzy as he was growing up. He received money for the first horse he trained when he was just 12 years old. This set into motion what was to become a lifelong goal and career of training horses.
Elzy went through the ranks of the Oklahoma Junior Rodeo Association rodeos - High School and College Rodeos, always competing on horses that he had trained. He graduated from Connors State College with an Associate of Science degree in Animal Science. His junior year at Oklahoma State University saw him lead the NIRA Regional Standings in the Calf Roping for the year.
In 1976 he filled his permit and competed in PRCA rodeos for 10 years while continuing his training business. Wanting to concentrate solely on his horse training, his rodeoing slowed down. He began showing horses in 1984. The next year saw him qualify two horses to the finals in the Jr. Tie down roping at the AQHA World Show. With a top-ten finish his first year, he knew this was for him.
Elzy has trained and/or showed many world champions in the AQHA and other breed associations. His horses have been successful in the Open, Amateur, and Youth levels.
Elzy is an experienced and knowledgeable horseman. His honesty and integrity have remained a forefront in his business. He continues daily to bring out the best in each horse he comes into contact with. His commitment to his profession is evidenced by his involvement in the industry. He is a member of the Professional Horsemen's Association, and an AQHA Judge.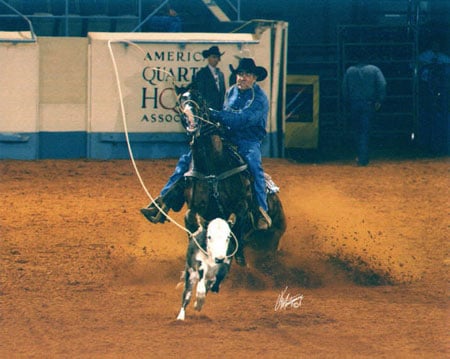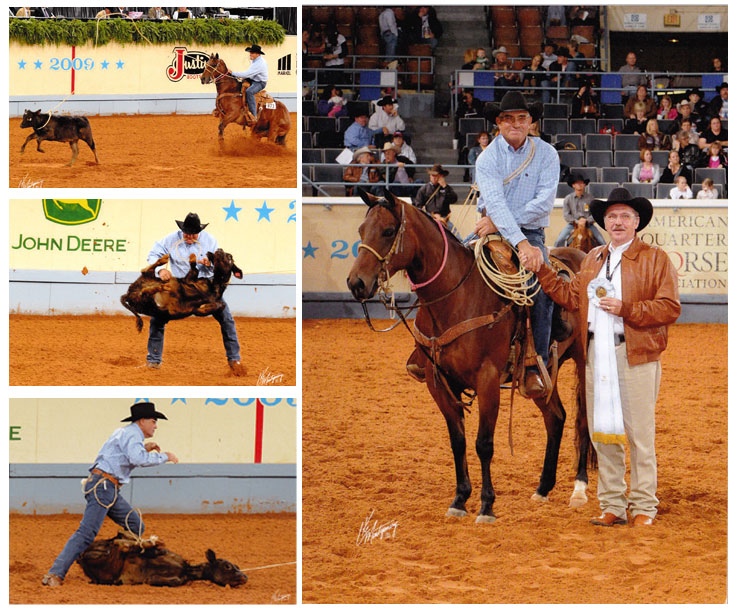 ---
Kathy Harrison
Kathy, Elzy's wife of 45 years, is a huge supporter of her husband. She teaches school and shows regularly in the Amateur. They met when they were 11 years old at a Junior Rodeo and have been best friends since. Kathy has competed at the High School, College, and Professional levels. Since college she has roped on horses trained by Elzy. With Elzy's help and riding horses he has trained she has had two qualifications to the College National Finals Rodeo, 10 qualifications to the Women's National Finals Rodeo in the Tie Down Roping and Team Roping. She has been runner-up two times in the Tie Down Calf Roping and Average winner in Team Roping. Kathy has qualified many times to the AQHA World Show and had Top Ten finishes in the roping events. She has two Reserve World Championships and Top Ten finishes in the roping events.